Dingle's Chillybom Band
From English Dance and Song Vol XXXIII No 2 Summer 1971
An Entertainment in Cosmic Spasms, featuring JOHN KIRKPATRICK on button accordion GEOFF WARREN or ALAN ROBERTS on fiddle STEVE DYER on piano ROGER HOLT on drums
Other parts played by members of the cast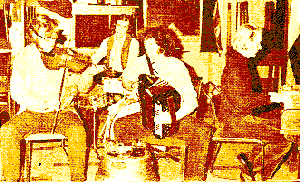 SCENE: The Hammersmith (St. Paul's) Folk Dance Club, London
TIME: Occasional Fridays, The Recent Past.
Enter John K. who had been playing all over the place for donkey's years. "Come-All-Ye" he cried, and they came, hundreds of musicians. "Come and play elsewhere as well" he whispered, and some of them did. And this was The Hammersmith Folk Band, a nebulous arrangement.
"Let us become less nebulous" they thought, and then there were four. "Let us become specific" said the four, and so they did, and Dingle became the proud owner of a Band of Chillyboms, first made manifest under that title in April, Nineteen-Seventy. Thus Was Born a New Star in the Galaxy of Folk Dance Bands.
John also sings and writes things and waves his leg in the air (" . . . a long pair of legs . . . " Ev. News). In fact he does it all the time now. Geoff plays the pipes and wins lots of prizes in Northumbria and is married Happily Ever After in Henley. Sometimes Henley is a long way so then Alan comes and he plays lovely Irish tunes and wears beer mats round his neck. Steve has known John for a Very Long Time and always takes the piano to pieces because he knows about computers. Roger calls dances and performs Feats of Endurance which then go into The Guinness Book Of Records.
They are all Morris men except Steve who is just freaky. So they are quite good at doing ceilidhs and things. In fact apart from everything else they put out musical vibrations every Wednesday for the ceilidhs at The Roebuck in Tottenham Court Road which Roger and John started in November because that's their kind of scene, baby.
"Dingle's Chillybom Band adds a new irreverent dimension to folk music - purists might say irrelevant" says ad-man Stephen J. Page, who is very good at saying things. "Their positive style is aimed at giving an entertaining evening to those who have come out to enjoy themselves."