English Country Dance Music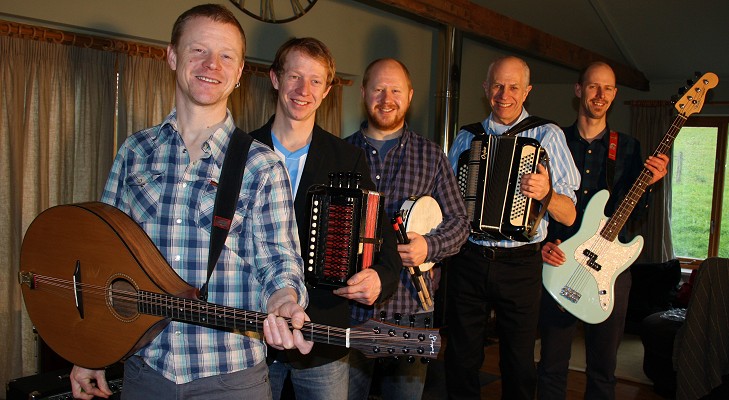 John Kirkpatrick marshals his family into a new force in the world of English Ceilidh Dancing. Building on the style of the late but much loved and admired Mr Gubbins' Bicycle, John calls the dances and leads the charge on button accordion, with his four sons in full flight behind him backing him to the hilt - Jobie on bass guitar, Benji on guitar, bouzouki, or banjo, George on melodeon, mouth organ, and selected percussion, and Fergus on drums.
As Mr Gubbins always said, English Country Dancing should be a joyful romp rather than a dull plod or an earnest waft. By combining his historical grasp of this kind of dancing with a lifetime's experience of knowing what works on the dance floor, John can not only present an unusual selection of material that is fabulous fun to do, but now has with him four lads who have an unavoidable love of music and dancing, and who have been steeped all their lives in rock solid tempos, easy musicianship, and sparkling improvisation.
English music for English dances in an English style.
Five Kirkpatricks, five Shropshire Bedlams – you have been warned!
Prepare yourself for an onslaught of irresistible danceability.
JOHN KIRKPATRICK – calling the dances, button accordion & anglo concertina
JOBIE KIRKPATRICK – bass guitar
BENJI KIRKPATRICK – guitars, banjo, mandolin, bouzouki
GEORGE KIRKPATRICK – melodeons, selected percussion
FERGUS KIRKPATRICK – drums
Photo credits: Amy Dyke