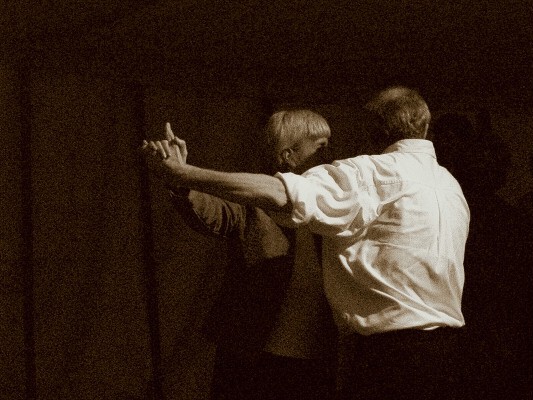 Mr Gubbins' Bicycle was the name of John's 5-piece ceilidh band that ran from the mid 1990's to 2014. Following Sally's sudden death in November of that year, that band is no more.
After a lengthy period of recovery, John decided to carry on with the music, and roped in his other two sons, George and Fergus, to join him with Jobie and Benji in a new outfit - KIRKOPHANY.
The old write-up and testimonials for the band are still shown below in their original form.
---
The Mr Gubbins Bicycle lineup
| | | |
| --- | --- | --- |
| | John | on button accordion and also calling the dances |
| | Sally Kirkpatrick | on stand-up percussion of all kinds |
| | Benji Kirkpatrick | on bouzouki and acoustic guitar |
| | Jobie Kirkpatrick | on bass guitar |
| | Martin Britnell | on trombone and low whistle |
The band have been going since the mid 1990's, and came together because they had all been dancing for years around South Shropshire as members of the morris teams The Shropshire Bedlams and Martha Rhoden's Tuppenny Dish. You can tell from the way they play that they all love dancing.
The band's terrific drive is fuelled by John K's firm belief that English Country Dancing should be a joyful romp rather than a dull plod or an earnest waft. By combining his historical grasp of this kind of dancing with a lifetime's experience at knowing what works on the dance floor, John can not only present an unusual selection of material that is fabulous fun to do, but has behind him a dedicated band whose rock-solid tempos and easy musicianship provide a basis for sparkling improvisations that just make you want to keep on dancing.
Comments on Mr Gubbins' Bicycle
Unsolicited testimonial after a ceilidh by Mr Gubbins' Bicycle and a workshop by John at the Clogfest Weekend in Gargrave, Lancashire, July 2003.
"We had a really splendid and enjoyable ceilidh last night. John and the band were simply brilliant, fabulous to dance to. I've had many expressions of delight from our dance teams about the ceilidh and the workshop on stepping, music and dance. The comment that summed up everything for me was made by a dancer who wasn't a musician, but knew when she'd had a really good time - she said towards the end of the workshop "Well, now we know why the band was so good to dance to."

And that was just what I hoped the workshop would get across - so, many thanks and top marks to John and the band - they really made our weekend of dance special.

Best wishes
Paul Hudson
Inclognito
Letter from Deirdre & Graham Foord after their 25th Wedding Anniversary Ceilidh at Bromyard in June 2004.
| | |
| --- | --- |
| | "At the start of Saturday evening a large percentage of our family and friends were unfamiliar with English folk music. We knew that they were all going to have a wonderful introduction, and all evening people were coming to tell us what a great band you were, how good the music was, and how everyone was having such a fantastic time. On behalf of everyone we would like to thank all of you for working so hard, producing such great music, and for coping so well with everything the evening threw at you." |
Richard Arrowsmith of Hekety, in a fROOTS interview 2004.
| | |
| --- | --- |
| | "John Kirkpatrick is the best dance musician ever." |
fROOTS.
| | |
| --- | --- |
| | "He's in a class of his own for the life he instils into whatever issues from his squeezeboxes." |
Publicity images available for downloading